Testimonials
JM - Cryosurgery patient
I am delighted with the outcome of the surgery. The severe pain that I had for most of the time has gone. The sensation that I get is more of a pressure in the area, after walking for a prolonged time. That however will stop as soon as I rest.

Having had the pain for over a year I am cautious not to overdo things - almost afraid that it might come back. I feel that I haven't pushed myself and am still wearing sensible shoes.

I would certainly recommend Cryosurgery and of course your good self.

August 2017
---
AW - Cryosurgery patient
Please note that this testimonial refers to AW's second cryosurgery procedure

I have noticed a difference in that I am no longer getting the pain/burning in any areas. I generally feel day to day so much better in my activities and don't get aching & pain in the evenings after being on my feet all day. I do get the clicking & twinge sensation sometimes when walking but overall I would say it has definitely been worth having both procedures.

I am limited still to whaat footwear I can wear and always use my custom made insoles, so this along with the treatment has helped hugely. Before the first procedure I could not walk for 30 minutes without being in pain. Now I'm on the go all day. Brilliant results!

I have noticed I have the same clicking in my other foot and so think there is also a neuroma there so if it becomes a problem I wouldn't hesitate to be in touch. Many thanks for your help.

July 2017
---
RH - Cryosurgery patient
I just wanted to thank you and the team at the London Podiatry Centre. As you know, I had two Morton's neuroma's both on my left foot....one being larger and more problematic than the other. I had tried the conventional approach of steroid injections but I found the relief was only short-lived and it had the adverse effect of bruising and making the foot look like it was caving in.

After visiting the clinic, I decided to go with the more conservative approach of having 'gait analysis', which showed me the problems with how I was walking....and then on to have cryotherapy on the larger neuroma.

It has not all been straightforward, as I have had problems with this foot for a very long time and it was only diagnosed as Morton's neuroma and being flat footed in that foot, a couple of years ago. However, with your help and that of the team in relation to the cryotherapy and the ongoing help with the orthoses, my foot is infinitely more comfortable, I am walking without limping and I am much happier.

Many thanks Ron....I hope my other neuroma behaves itself, but if it doesn't then I would have cryotherapy on that one also.

April 2017
---
SC - Cryosurgery patient
I would like to thank Mr McCulloch and the London Podiatry Centre for all their help with what I now know to have been a condition called "Morton's Neuroma".

I first attended the clinic with burning pain in the top of my foot after walking and an ultra sensitive and painful under foot whenever I trod on any un-even surface as well as what felt like small electric shocks to my smaller toes. It was recommended to try orthotic devices first and although they seemed to offer some relief It didn't go away and I became conscious of it whenever I had to walk anywhere.

After reading about cryosurgery as an alternative to full invasive surgery I thought I would give it a try and I'm very glad I did. Mr McCulloch explained the procedure beforehand and though a little nervous on the day I didn't need to be. Other than a couple of small injections it was a painless experience and I was out of the clinic in about an hour. The actual procedure was less than half of this time and Mr McCulloch kept me at ease throughout.

The procedure had worked well and I Immediately felt the benefits, once it had settled down the pain and sensations had reduced by more than 50%. After waiting 8-9 months and having a review with Mr McCulloch about the remaining irritation we decided a second go with a longer application was worth a try and I'm pleased to say the remaining pain/irritation has gone completely. I can still feel the nerve on occasions but there is no pain present and I am very pleased with the result. I do not need to wear orthotic devices anymore either which is a bonus and its also a relief I will not need to consider major foot surgery now.

I would recommend anyone suffering with this condition to speak to Mr McCulloch and the London Podiatry Centre.

May 2017
---
DS - Cryosurgery patient
Dear Ron,

This update now 7 months post surgery, and 5 months since the last update.

You had said when I last saw you that you'd expect I would be able to cycle and dance with little difficulty by the summer (which was 4 months post surgery). You were absolutely right. At the start of the summer I was dancing again at weekend-long events, doing about 1 hour of dancing then 20 mins of rest (with some foot massage, and foot elevation), for about 10 hours on successive days without any residual problems. By the end of the summer it is about 3 hours of dancing with 15 minutes simply with shoe off and some simple toe stretching.

Cycling has gone a similar way, if anything is easier than the dancing. At the beginning of the summer I could cycle for about an hour before it felt wise to take a pre-emptive rest stretch and massage, now I can cycle hard without any thought of my foot (so far up to 4 hours). I'm still cycling using cleated shoes with the front section cut so there is no metatarsal compression. If I could I'd do the same for dancing, but for dancing of course I need more lateral stability from my shoe.

I've rarely worn anything but the ASICS you recommended (for dancing and walking), and the cycle shoes. In the last month or so I've occasionally briefly worn dress shoes, taking them off under the table at meetings, and this has gone OK.

At home and in the office I wear socks with the orthotics in the socks--this feels very comfortable, though I realize it does not add the heel support that the ASICS do. I also find wearing the orthotics in the socks is convenient for changing shoes (cycling to dance for example), so I've gotten into that habit. I know the orthotics are supposed to go under the green insoles, but the orthotics directly in my socks has felt good so I've done that.

In summary, it was about 1 year since I stressed my foot and renoticed the perineurial fibroma, and about 9 months since I found you and we started treatment. I'm extremely happy to be where I am, with little and still decreasing impact on my life and activities--I certainly did not expect to be in this situation being able to cycle and dance as I am. Very many thanks.

November 2016
---
HM - Cryosurgery patient
I was having severe pain in the ball of my right foot which was causing me to experiment with walking in different ways. This in turn was affecting my knee and my back. Following the cryosurgery the pain has completely gone (although it is taking the toes longer to settle down to a new routine)

June 2016
---
CD - Cryosurgery patient
I cannot recommend highly enough the Cryosurgery procedure I had on two occasions in 2015 at the London Podiatry Centre. First Mr McCulloch treated the largest neuroma in my left foot as, following diagnostic tests, this seemed to be the primary source of the pain. Several months later, although the pain was much reduced, I decided to return to have the second smaller neuroma treated. I am so glad I did, as 7 months later I am completely without any pain in this foot. I was treated by Mr McCulloch and his staff with a very professional though friendly manner throughout and am completely happy with the outcome.

May 2016
---
PK - Crysorurgery patient
I arrived to have the procedure first thing in the morning, I was quite anxious still in relation to how much pain there would be, but also if this procedure would work. I had received a very thorough briefing before the surgery day, but was still a bit worried as with anything new.

I needn't have been - the procedure was very relaxed, and most importantly I experienced no pain during this, and only a small amount after during the following days.

Whilst the procedure was taking place, my self and the surgeon listened to the radio, and had a very lovely and relaxing conversation about our love of music, and also played a bit of a guessing game regarding who was singing the current song. The radio station was playing hits of around the 60's and 70's. Before I knew where I was the surgery was completed.

My foot was frozen for the rest of the day. I had some pain the following couple of days, but all had settled well within the week. The pain eased over the next couple of months (however it was very much better during this time).

Three months on, no pain. I do have a strange sensation in my toes, but this is because two of them are numb where the nerve was killed.

Would I have this done again, yes I would ! much quicker and better than normal surgery. I was up and about the next day with no problems!

November 2015
---
ML - Cryosurgery patient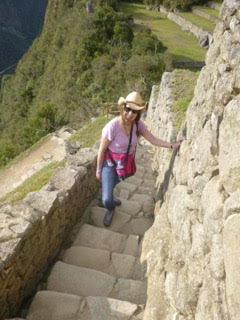 Thank you for your amazing surgical skill, kindness and great music to operate by. The image is of me climbing Machu Picchu with my group a month after my surgery. I cannot thank you enough for helping me get literally back on my feet. I'm heading for the jungle in June thanks to you.

January 2016
---
IJ - Cryosurgery patient
Cryosurgery has been amazing - the stabbing pain in my foot, which had been quite severe, literally stopped on the day I walked into Ron McCulloch's surgery to have the procedure done. Since then I've been completely pain-free and I can jog and dance again and go on long hikes! I can only recommend this to anyone who is suffering from this condition.

January 2016
---
AJ - Cryosurgery patient
Since the cryosurgery I have been able to go back to the gym and have regular work outs of 1 hour 3 times a week with no flare up after exercising and I am up to running for 35 minutes pain free

I have lost 3 Kilos in weight.

The other problem that has gone, I am no longer grinding my teeth at night which was causing me neck and shoulder pain.

The only discomfort I get is if I don't wear the insoles for a few days but the mild discomfort is not around the toes but in the ankle but again very mild.

Very happy and would recommend the procedure without hesitation, just wished I had had it done sooner.

January 2016
---
EO - Cryosurgery patient
I do still experience pain if I am barefoot on our ceramic tile floors but it dissipates immediately. Otherwise I am completely pain free.

May 2016
---
MD - Cryosurgery patient
I am now 9 weeks post procedure. I have just been on a weeks dance holiday in Spain where I danced every evening, and report that my foot stood up to it brilliantly, I am so pleased. Apart from a little fatigue of both feet because of the dancing I experienced no pain in the neuroma area.
---
LB - Cryosurgery patient
I would strongly recommend cryosurgery. I was experiencing severe pain in my left foot with my Neuroma, which over the course of two years had got progressively worse to the extent that I couldn.t walk ten minutes to and from the station every day without the regular use of painkillers. I found the cryosurgery itself completely fine and obviously pain free, due to the local anaesthetic and found Ron very informative as he talked me through the process. I had the tiniest incision behind the toes which healed within a day or so. After a couple of days with my foot up after the surgery, I found the pain greatly reduced, though not completely gone initially, though this has improved pretty much day by day. It.s now over three months after my surgery and I am 100% pain free, though do still very occasionally have the odd ache in the area and some numbness in the toes, but as this is also progressively improving day by day. I have no doubt that with time, this will go completely, I.m overall very pleased.
---
MC - Cryosurgery patient
Great service, expertise and and aftercare. I would thoroughly recommend cryosurgery as an alternative to surgical intervention.
---
KK - Cryosurgery patient
I am relieved to be now rid of the excruciating pain in my right foot, which hurt even when wearing low heeled shoes. I had been suffering for at least 8 years, as I had never heard of Morton's neuroma until I started doing some research on the type of pain I had. It took between 3-4 months for the site of the pain to be completely pain free, but I am extremely pleased that I had the operation. I have to say, that at first I didn't think the operation was successful because I was still getting twinges of pain, but they are now gone - be aware that your foot may take some time before it is completely pain free. I am just sorry that I had never heard of the operation before 2014, otherwise I would have gone ahead with it before now. Now I don't dread putting on a pair of shoes in the morning!
---
KM - Cryosurgery patient
I recently had surgery for a neuroma & verruca on 23 April. I wanted to thank you for the excellent service & give you some feedback. I spent last week in Rome and managed to walk all day every day without pain - it made my holiday!
---
AT - Cryosurgery patient
It has taken 4-6 months for the foot to settle. I was completely pain free in August (5 months post procedure) although I have had several nerve twinges since. It is NOT the original neuroma pain, more the nerve still complaining in either the middle of my toes 3 and 4 or on the pad of my foot in that area. However the pain does not last more than seconds and is now nothing like as severe as the neuroma pain was before the treatment, although for the first three months it was like getting horribly regular electric shocks!

I am still very grateful for the treatment and would definitely recommend it. When Mr. McCulloch performed the cryosurgery, he did say he was freezing the nerve for longer than usual because the neuroma was so big, I just wonder if this is the cause of the residual, nerve pain? The pain now only seems to happen when I have been on my feet for a very long time and generally at the end of the day and probably not more than a couple of times a week. Please thank Ron McCulloch very much, I am extremely grateful to him.
---
SdV - Cryosurgery patient
Everything relating to the cryosurgery is absolutely fine; After a couple of weeks I was able to walk a long distance without the burning pain I had experienced previously so I am sure the procedure has been a complete success. Unfortunately for me I am still suffering discomfort, especially when I first put my foot on the floor each morning, but I have no doubt this relates to the conventional surgery carried out on a previous neuroma some years ago.
---
Christine C. - Cryosurgery patient
I had never heard of Mortons Neuroma until I came across Mr. McCulloch's website while trying to research my own foot problem. I had severe pain in my right foot for over two years. My own doctor prescribed very high doses of ibuprofen which only worked while I was taking it. The other alternatives were steroid injections or surgical removal of the nerve. Neither of these appealed to me at all. Meanwhile the pain continued to restrict my activities. At times it was like walking on raw flesh and felt as though my foot was being crushed in a vice. Walking was excruciating as was just pottering in the garden. Even tight socks would set it off. Desperation sent me on a search for a better solution, and am I glad I did. Mr. McCulloch confirmed that it was a neuroma and I had the surgery last February. It was completely painless. The injections to freeze the foot sting a bit but nothing to scream about. I suppose the foot was a little bit sore for a couple of days but nothing more than that. Then you wait. Has it worked or hasn't it. In the beginning I was a little confused as I was still getting a pain but it wasn't quite the same pain, and after a while decided it probably hadn.t worked for me. As time has passed however it has improved dramatically. I can walk for quite long periods with little or no pain. I even wore a pair of heeled shoes on my holiday without any discomfort! To sum up I would say that it may take a little time to work for you as it did me. So don't be disappointed if at first you still experience some pain.
---
NP - Cryosurgery patient
Foot has very little pain now and as long as it is kept warm, it does not hurt. I can now achieve running on a treadmill in excess of 5k with no side effects. I have adopted wearing Hush Puppies shoes and Vibram/Merrell based trainer to exercise. The vibram trainers have little or no heal and are extra wide.
---
Chris Hollick - Cryosurgery patient
I just wanted to update you on how my foot is progressing after cryosurgery with you about 6 weeks ago. I'm delighted to say that things are going really well and I'm mostly free from pain - the only sensation occasionally is of swelling still and tightness on the ball of the foot, but this is happening less. I have much more movement in the foot itself and the 2 toes and theres no appearance of swelling on the top of the toes, which there was before the surgery.

I would like to say a massive thank you for the treatment and I can't tell you how much it means to me to be free from that constant horrible pain on walking. You are doing such a great job and I tell everyone about you and your cryo surgery! When I think of the alternative I was offered which was invasive surgery with all its complications, I'm so grateful that I found you and your pioneering treatment!
---
Some patients attending the London Podiatry Centre have been advised erroneously that they suffer from a Morton's neuroma. The centre uses extensive investigations to ensure that all possible causes of forefoot pain are fully explored so that the correct diagnosis is made. This patient was advised by other practitioners that she had a Morton's neuroma but the London Podiatry Centre soon discovered that this was not the case, and by working closely with one of our consultant neurologist colleagues the correct diagnosis was established.
R.H.
Belated thanks for all the attention you gave me in August.

Having carried out extensive tests, and having previously undergone various treatments to correct the foot pain, I was quite relieved that you discovered that the pain in my toes was not attributable to any previously suspected cause, and I am grateful for your referral to the neurologist.

As I believe you know he is of the opinion that the pain is less likely due to peripheral neuropathy than some sort of neuropathy caused by pressure on the spinal nerves.

However I have still found the orthotics that you had designed for me have been very helpful in stabilizing my gait, and especially I am grateful for the ones you had fitted to my new sandals later, which make these the most comfortable that I have.

I cannot obviously walk the distances I did before as the back problem has still to be resolved, but I feel confident in doing the best I can knowing that with the orthotics no harm will come to my feet.

I will have no hesitation in recommending your clinic in the future.
---
AK - Cryosurgery patient
The pain in my foot is greatly improved and I would definitely recommend this procedure, although it is not a quick-fix. My foot has improved gradually over the past three months but I do still have to be careful of the type of shoes that I wear - heels are not an option. When I do get pain, it is not nearly as severe as it used to be.
---
Dr J G - Cryosurgery patient
Four months after the procedures, I am delighted to endorse cryosurgery for Morton's neuroma at the London Podiatry Centre. I suffered from two large neuromas, one in each foot. They were significantly limiting my activities, including my ability to enjoy my hobby of hiking in the country. Following a procedure on each foot, carried out two days apart, I am now able to hike without the discomfort I previously experienced. I am totally free of pain in one foot, but still infrequently experience slight discomfort in the other. I am considering repeating the cryosurgery procedure on this foot in the hope that it, too, can be fully pain free. Throughout the process of treatment I have nothing but praise for Mr McCulloch and his staff. Their professionalism was boundless. My only regret is that I did not have the procedures earlier. I regret the hikes I could not take and am trying hard to make up for lost time!
---
Leena Kanerva - Cryosurgery patient
I wanted to update you about the results of having cryosurgery in my right foot twice, last time a year ago. I'm delighted to report that the pain has finally disappeared! I still had pain occasionally during the summer but now at least for 3 months, regardless of the footwear, I have experienced no pain at all.
---
M.C. - Cryosurgery patient
It is now nearly 4 months since you performed cryo surgery on my Mortons Neuroma. You asked me to report progress. Well I am absolutely delighted to report that I am now completely pain free and enjoying again the delights of long walks with the dog.

Sometimes if I have been on my feet all day I get a dull ache, no pain, but after a night's rest back to normal.

I can't begin to tell you how pleased I am. Thank you so much for your efforts. If I can repay you by offering a testimonial I would be delighted. After all you said my Neuroma was 50% bigger than normal so it might not work in one go. But it has. Thank you so much.
---
L.T. - Cyrosugery patient
I have now had Cryosurgery for Morton's Neuroma on both feet. As a self employed Fitness Instructor it was imperative that I returned to work as soon as possible. The procedure was painless, Mr McCulloch explained every detail. I walked out of the clinic and could walk normally the next day. Having suffered for years with this condition it is wonderful to be able to walk, dance and wear normal shoes without having to stop to relieve the pain.
---
Richard Collinge - Head of Performance, Cardiff City Football Club
I would like to say many thanks for the extremely professional service provided by The London Podiatry Centre for the treatment of our player who underwent cryosurgery for a persistent neuroma recently. We cannot compliment your service highly enough as the player quickly returned to training and competitive match action completely symptom free. Many thanks to Ron and the team.
---
A.F. - Cryosurgery patient
In answer to the question regarding whether I would have the procedure again, I would say 'yes', and am in fact hoping to have the procedure repeated on the right foot.
---
G.R. - Cryosurgery patient for Morton's neuroma
"Given the same opportunity again would you have the cryosurgery procedure?"
Yes I would, in fact I had a second procedure one week before my wedding with no problems. I have now returned from one week skiing and no recurrence of my Morton's neuroma associated pain.
---
F.P. - Cryosurgery patient
Sorry I haven't been in touch sooner. I've been too busy testing my painless foot! It has certainly 'stood up' to the rigours of Christmas shopping and is giving me no trouble at all. I have to say that it is probably the best early Christmas present I have ever had!
Update a year after cryosurgery: It is twelve months now since I had my Cryo injection. I felt it was unnecessary to email you so frequently to report that everything was the same but now that a year has passed I thought you may like an update. There have been a few twinges occasionally but nothing of any significance and I really do feel that I have had a new lease of life. I have been able to walk around shops and on holiday all day without any of the discomfort I previously experienced. I would certainly recommend this procedure to anyone who was suffering as I was. Thank you for freeing me from what was a quite debilitating pain.
---
E.N. - Cryosurgery patient for Morton's neuroma
I suffered no post operative ill effects and was back to normal as soon as the anaesthetic wore off. Twelve days after the procedure I went for an 8km walk on footpaths and tracks, on my feet for 2.5 hours, and experienced no pain or discomfort. Although my Morton's neuroma was not severe, previously, within an hour of walking I would experience pain.
Update 7 months after cryosurgery: I am still symptom free after the cryosurgery on my Morton's neuroma last August. Last Sunday I walked for 10 miles carrying a 7kg pack with no pain. In about a fortnight I am travelling to Spain to walk the Camino de Santiago from the French border to Leon, about 450 k, planning to walk about 25k a day, carrying about 7.5kg. Hopefully the journey will be problem free.
Update 9 months after cryosurgery: Just to let you know that I walked 470km in 20 days and have had no trouble with my foot.
---
Bob H. - Cryosurgery patient for Morton's neuroma
I would just like to say that I have been entirely delighted with the cryosurgery procedure on my right foot. Having suffered with the neuroma for a number of years my quality of life has improved greatly since the operation and I can now enjoy going on long walks with my wife without the fear of having to stop because of the pain in my foot.
The procedure itself was completely painless and Mr McCulloch went to great lengths to explain exactly what would be done and he was excellent.
I would certainly recommend the procedure and indeed the clinic to anyone who is suffering from a neuroma in their foot.